Stand Up Paddleboard Course
De Lille Sports – Cozumel, Mexico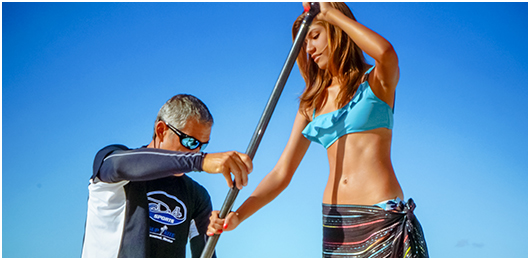 Course Pricing:
Duration:
Cancellation policy:

If the port is closed due to poor weather or the conditions are not safe or suitable you will receive a full refund.
Let's Get Started
These lessons will teach you the basics you will need to become a competent and accomplished stand up paddler. In your first lesson as a beginner you will learn how to: handle the equipment in and out of the water, stay safe in the water, get up on the board including the proper and correct stance, hold the paddle and basic paddling techniques including turning and direction control. After your instruction is complete you will be given free paddle time to enjoy your newly acquired skills. During this time one of our instructors will be available to answer any follow up questions you may have.
We meet at Playa Casitas, Palapa #3 to the North, under the Shaka Snack Bar.
Stand Up Paddleboard Course Photo Gallery
Cozumel, Mexico